Temperature Detection and Face Recognition Device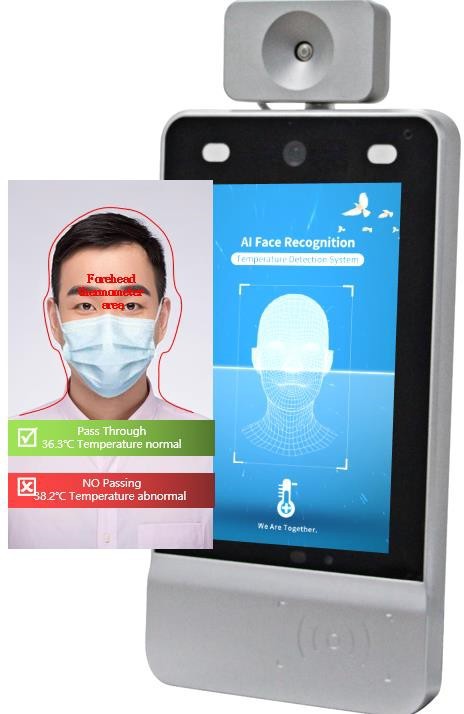 THE FIRST LINE OF SCREENING AND PROTECTION
A Solution for NON-CONTACT temperature measurement with face recognition 

 
A contactless facial recognition,  temperature measurement and mask detection device/ Kiosk.
Using AI Technology and Infrared Thermal imaging, the smart and compact device enable fast and accurate detection with high-reliability.
Automatically read body temperature in seconds to achieve the rapid movement of human traffic and a better control of entry of personnel,maximizing the efficiency of epidemic prevention.
Product Advantages
* Contactless detection and temperature measurement that reduce the risk of cross infection
* Automatic all-in -one Face temperature measuring, Mask Detection and Face Recognition
* Save time and increase traffic efficiency. Surpass the traditional temperature measuring gun needed to be held by a person
* Automatically record abnormal body temperature and control the accessibility
*  By facial scanning, it can automatically record personal information and check the records of relevant people going in and out.
* Adopt deep learning algorithm, support 20,000 people. Recognition speed of less than 1 second/person
* Suitable for complex light environment to achieve face recognition
* Support staff attendance management, flexible shift arrangement
* Easy to upgrade and maintenance
Ready to do our part to prevent the spread of Coronavirus?