Air Cushion Film
Type of Air Cushion Film System 
Abpac's air cushion film is made from high-quality polyethylene material, which is strong, durable, and flexible. The film consists of multiple layers of plastic, with air pockets trapped between the layers. These air pockets act as a cushion, absorbing the impact and vibrations during shipping or handling, reducing the risk of product damage.
The company's air film products come in various thicknesses, widths, and lengths to meet different packaging needs. Additionally, Abpac can customize the cushion film to meet specific customer requirements, including printing logos, product descriptions, or other branding messages on the film.
Our air cushion is also eco-friendly. The film is made from recyclable materials, making it an environmentally sustainable packaging solution. The air film is also lightweight, reducing the overall weight of the packaged product, which can lead to cost savings in shipping and transportation.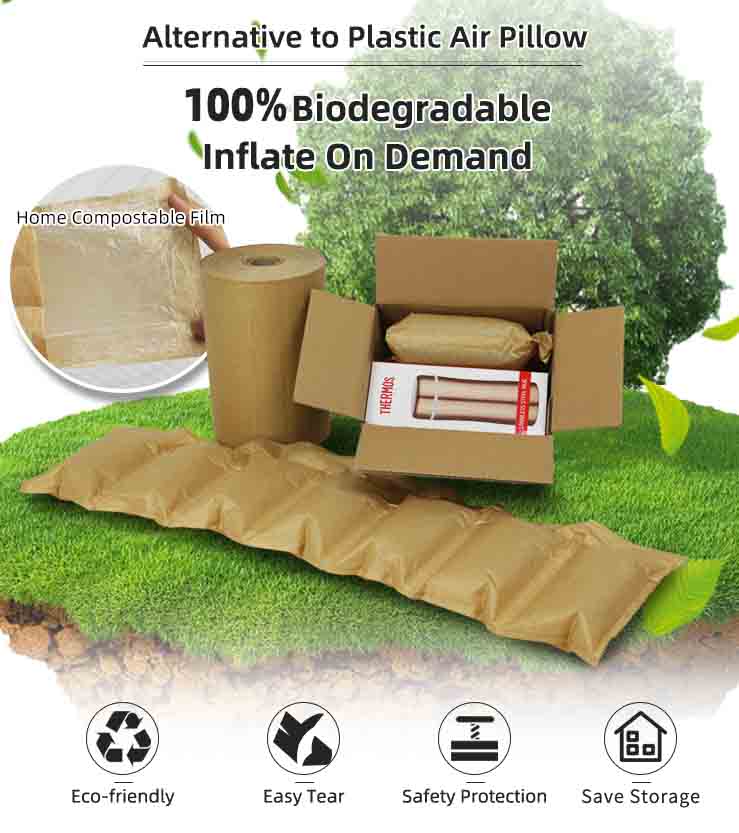 | Thumbnails | Products | Category | Material | Packing | Stock | Quote Request |
| --- | --- | --- | --- | --- | --- | --- |
| | | | | 1 unit | | |
| | | | | 1 unit | | |
| | | | | 1 unit | | |
| | | | | 1 unit | | |
| | | | PE/PA Co-extrusion Film | 6000/12000 pcs per pallet | | |
| | | | PE/PA Co-extrusion Film | 6000/12000 pcs per pallet | | |
| | | | PE/PA Co-extrusion Film | 6000/12000 pcs per pallet | | |
| | | | PE/PA Co-extrusion Film | 80 rolls per pallet | | |
| | | | PE/PA Co-extrusion Film | 6000/12000 pcs per pallet | | |
| | | | PE/PA Co-extrusion Film | 6000/12000 pcs per pallet | | |
| | | | PE/PA Co-extrusion Film | 50 rolls per pallet | | |
| | | | PE/PA Co-extrusion Film | 50 rolls per pallet | | |
| | | | Nylon and PE | 100 roll per pallet | | |
| | | | Nylon and PE | 100 roll per pallet | | |
| | | | Nylon and PE | 60 roll per pallet | | |
| | | | Nylon and PE | 50 roll per pallet | | |
| | | | Nylon and PE | 40 roll per pallet | | |
| | | | Nylon and PE | 40 roll per pallet | | |
| | | | HDPE | 1 roll per box | | |
| | | | HDPE | 1 roll per box | | |
| | | | HDPE | 1 roll per box | | |
| | | | HDPE | | | |
| | | | HDPE | | | |
| | | | HDPE | | | |
| | | | HDPE | | | |
| | | | HDPE | | | |
| | | | HDPE | | | |
| | | | HDPE | 2 rolls per box | | |
| | | | HDPE | 2 rolls per box | | |
| | | | HDPE | 2 rolls per box | | |
| | | | HDPE | 2 rolls per box | | |
| | | | HDPE | 2 rolls per box | | |
| | | | HDPE | 2 rolls per box | | |
| | | | HDPE | 4 rolls per box | | |
| | | | HDPE | 4 rolls per box | | |
| | | | HDPE | 1 roll per box | | |
| | | | HDPE | 1 roll per box | | |
| | | | HDPE | 1 roll per box | | |
| | | | HDPE | 1 roll per box | | |
| | | | HDPE | 1 roll per box | | |
| | | | HDPE | 1 roll per box | | |
| | | | HDPE | 1 roll per box | | |
| | | | HDPE | 1 roll per box | | |
| | | | HDPE | 1 roll per box | | |
| | | | HDPE | 1 roll per box | | |
| | | | LDPA | 1 roll per box | | |
| | | | LDPA | 1 roll per box | | |
| | | | LDPA | 1 roll per box | | |
| | | | LDPA | 1 roll per box | | |
| | | | LDPA | 1 roll per box | | |
| | | | LDPA | 1 roll per box | | |
Showing all 51 results