PP Strap
AB Pac (S) Pte Ltd is a packaging manufacturer specializes in complete packaging solutions that help customers reduce their total costs while minimizing environmental impact.
PP strapping band – strapping.
PP polypropylene band is the usual use for the strapping of boxes and lighter packages. PP bands are also often referred to as PP-strapping or referred also polypropylene.
Areas of application are for example the bundles of printed Books or magazine  in the printing industry. PP strapping band is an economical way to secure your products in  package services, logistics companies, shipping warehouses, distribution centres, as well as in the textile industry, and many more.
Pls contact directly if you wanted as our Corporate Account .
We have more than 500 sku Packaging Material in stock . Contact us for packaging needs.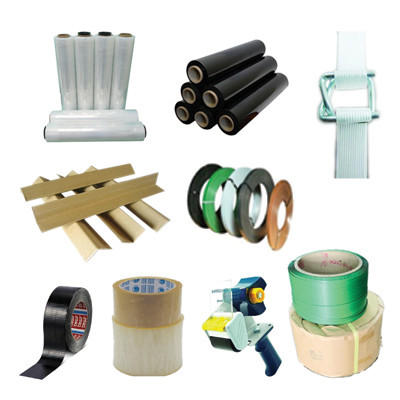 | Thumbnails | Products | Dimension | Material | Quote Request |
| --- | --- | --- | --- | --- |
| | | 9mm x 9kg | Polyproylene (PP) | |
| | | 12mm x 12kg | Polyproylene (PP) | |
| | | 12mm x 9kg | Polyproylene (PP) | |
| | | 15mm x 12kg | Polyproylene (PP) | |
| | | 15mm x 9kg | Polyproylene (PP) | |
| | | 15mm x 9kg | Polyproylene (PP) | |
| | | 9mm x 4000m | Polyproylene (PP) | |
| | | 9mm x 4000m | Polyproylene (PP) | |
| | | 9mm x 4000m | Polyproylene (PP) | |
| | | 12mm x 12kg | Polyproylene (PP) | |
| | | 12mm x 12kg | Polyproylene (PP) | |
| | | 12mm x 3000m | Polyproylene (PP) | |
| | | 12mm x 3000m | Polyproylene (PP) | |
| | | 15mm x 12kg | Polyproylene (PP) | |
| | | 15mm x 12kg | Polyproylene (PP) | |
| | | 15mm x 2500m | Polyproylene (PP) | |
| | | 15mm x 2500m | Polyproylene (PP) | |
| | | | Polyproylene (PP) | |
| | | 9mm x 9kg | Polyproylene (PP) | |
Showing all 19 results